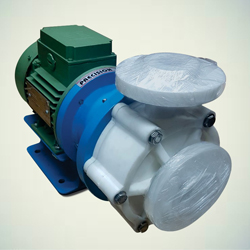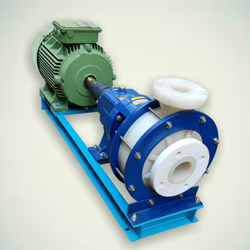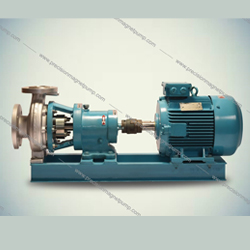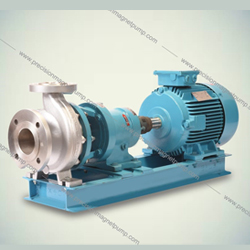 Centrifugal Pumps Manufacturer / Exporter / Supplier
Request Quote
Centrifugal Pump
Does your industry require an advanced pumping system to handle fluids in bulk amounts? You must choose a fully functional centrifugal pump. The pump handles fluids in large amounts but also gives a high liquid flow rate. Besides, these pumps may regulate the rates of liquid flow over many ranges.
Any typical centrifugal pump setup consists of one, two, or multiple impellers attached to a rotary pump shaft. The arrangement supplies the energy required to conduct fluid through the complete pump system and the connected piping devices. The impellers turn in synchronization with the attached pump shaft to convert dynamic mechanical energy obtained from the motor into fluid movement energy. In most cases, centrifugal types of pumps are available in three different forms depending on the number of impeller/impellers used. These include single-stage, double-stage, and multi-stage pumps.
The operation cycle of a centrifugal pump starts when it directs the inner fluid within the suction ports and to the impellers' inlet. Rotating impellers transfer the pumped liquids with their spinning vanes and at the same time, increase their velocity. Later, the charged fluid leaves the vanes of the impeller and conducts to a pump volute or diffuser case. In this way, impeller vanes generate a high velocity of the fluid to convert it into high fluid pressure. In the last stage, the pressurized fluid conducts to a channel or discharge port to the upcoming stage of any multi-stage centrifugal pump system.
Centrifugal types of pumps have found their usage across an array of industrial and domestic processes. These include supplying water to use in residential buildings, food and beverage industries, chemical manufacturing centers, and fulfillment of pumping requirements. Other than that, applications of the pump are in water treatment plants, petrochemical and chemical plants, dyes, textile processing, fertilizer, food and dairy industries, and fuel and oil industries.
Precision Engineering has launched centrifugal pump that have been developed with the most advanced technologies of our times. Alongside simple usage, we have even ensured the safety of our customers. Compared to other machines, our centrifugal pump techniques are efficient in managing work-hour capacity and enhancing productivity. Alongside high production value, our pump go low on maintenance.
Precision Engineering Co are the one of the best centrifugal pump manufacturer, centrifugal pump exporter and centrifugal pump supplier in Mumbai, India. We are the cover the pan india to best deilver our centrifugal pump product. If you have this product please wuote here!
Centrifugal pumps is Process type design results in minimum downtime. back pull - out design enabling easier removal for maintenance. Closed impeller ensures high efficiency for a long period operation.
Modular construction, high interchangeability, fast delivery, Versatile shaft sealing arrangement, gland packing as a standard arrangement and option to use mechanical seal.We are a prominent manufacturer, supplier and exporter of Quality Polypropylene Pumps that are used for all kinds of acids and salts.
Centrifugal Pumps are used in water treatment plants, dyes, chemicals, & petrochemical plants, fertilizer, textile processing, food & dairy industries, and oil & other fuels.