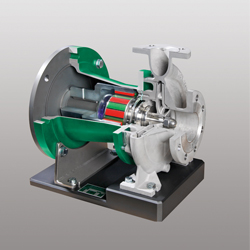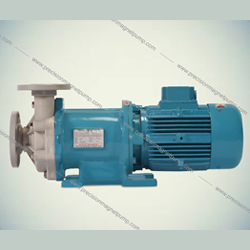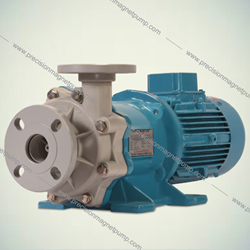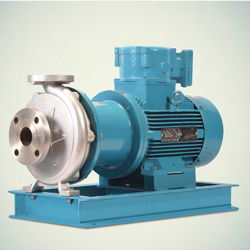 Magnetic Drive Pumps Manufacturer / Exporter / Supplier
Request Quote
Magnetic Pump
Many pharmaceutical, chemical, and other industries today use magnetic drive pumps. A magnetic pump also refers to a centrifugal pump. It contains impellers and pumped fluids within a hermetically sealed housing system. A magnetic pump comes equipped with a drive shaft from the motor to rotate an assembly of various magnets on the outer part of the housing. In contrast, the inside of the housing contains a matching ring consisting of magnets over a shaft attached to impellers. The combination transfers the torque from the housing due to coupled magnets.

Every magnetic pump or magnetic drive pump features a sealless design and a hermetically sealed chamber rather than a pump shaft to run through the outer case. Indeed, such pumps are airtight and reduce every possible risk related to leaked vapor or leaked fluid. Magnetic drive pumps benefit companies that require the pumping of expensive chemical products and cannot afford to risk any leakage within the factory environment.Besides, it has a simple and modular construction to allow easy maintenance.

Mag drive pump or magnetic pump designs are useful in various ways starting from a few compact and OEM configurations to many big chemical processing pumps. In particular, industries prefer mag pumps for sealless and leakage-free construction projects. A few industries even use mag drive pumps to handle corrosive fluids. The reason is that the pumps comprise non-metallic and chemically inert materials to resist corrosion.

Magnetic drive pumps or magnetic pumps are recommendable for applications, where industries need self-priming, running dry, or handling of solids. Besides, mag pumps are useful in pumping difficult liquids. These include acids, abrasive liquids, corrosives, bases, flammables, volatile fluids, viscous liquids,and inorganic solutions. In some cases, industries use mag drive pumps to handle toxic liquids, solvents, slurries, organic fluids, and liquids containing entrained gases.

Precision Engineering Co has launched magnetic pump that have been developed with the most advanced technologies of our times. Alongside simple usage, we have even ensured the safety of our customers. Compared to other machines, our magnetic pump techniques are efficient in managing work-hour capacity and enhancing productivity. Alongside high production value, our pump go low on maintenance.

Precision Engineering Co are the one of the best magnetic pump manufacturer, magnetic pump exporter and magnetic pump supplier in Mumbai, India. We are the cover the pan india to best deilver our magnetic pump product. If you have this product please wuote here !
Magnet drive pump designs offer a wide range of capabilities from compact OEM configurations to our large chemical process pump Its unmatched in the industry making us the leader in magnet drive pump technology
Applications
Leak free, seal-less construction.
Simple, modular construction for easy of maintenance.
Non-metallic chemically inert materials offer excellent resistance to corrosive fluids
Pharmaceutical industries, Laboratory equipment, Metal finishing machine , Food processing machine like dairies, Galvanizing anodizing plants, Medical Equipment Electro plating industries, General laboratories, Textile processing & dying Use in various applications